OUR BABY YORKSHIRE TERRIERS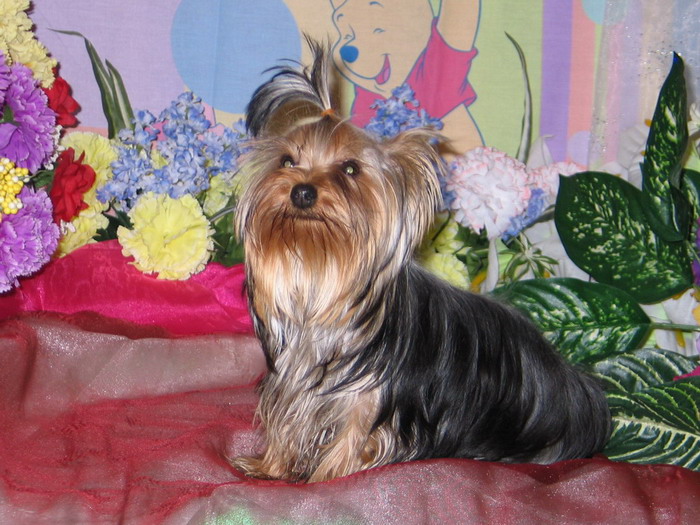 This was Amber at 9 months old and 3 lbs 6ozs. She is not available for sale.

When you are trying to find the breeder for your puppy please pick your breeder carefully and put in an early deposit.
Please remember it is OK to ask for references. Reputable breeders will not mind.

NEW LITTERS

Ruby Too and CH DURRER'S EYE OF THE STORM
javascript:chkSubmit()

We are accepting Deposits on this litter.



Ruby and CH Stormy had their litter Nov 31, 2017
Ruby had 1 boy and 2 girls.
1 boy (Not Available)and 2 girls (Available).
2 Girls, their birth weights were 4.8 and 4.9 ounces (AVAILABLE)

Their exp. adult color: Silver n Gold
Their expected adult weight is 3 to 4 lbs.

1 Boy his birth weight was 4.6 ounces (NOT AVAILABLE)

His exp. adult color: Silver n Gold
His expected adult weight is 3 to 4 lbs.
He has his forever home.

WE PROUDLY PRESENT THE PARENTS OF OUR NEW LITTER

Ruby - MOM (Color: Black n Tan – 4.3lbs)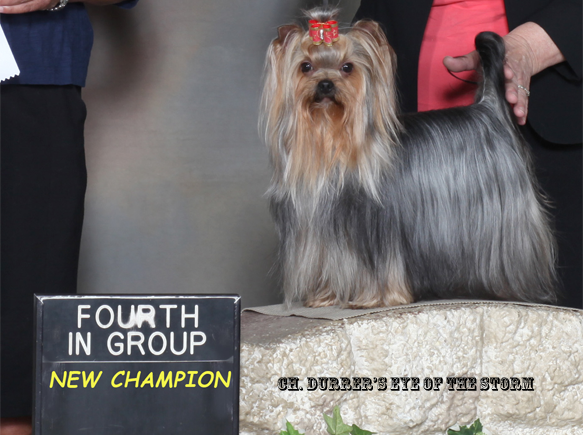 CH Eye of the Storm – DAD (Color: Blue n Tan – 4.7lbs)

WE PROUDLY PRESENT THE BABIES FROM OUR NEW LITTER

Two Girls available and boy N/A
Two Girls available and boy N/A
Two Girls available and boy N/A
Two Girls available and boy N/A
For more individual pictures of these puppies email me for your Yorkie Puppy Pack and link to more pictures.
OUR LITTER TRAINED PUPPIES
E-Mail roxanne@yorkie.classykennels.com for a Yorkie Info pack. Information will be sent out all about the Yorkie puppies that are available. Our emailed "Puppy Pack" will include answers most of your questions, prices, new pictures of the babies and updates on litters we are expecting. Feel free to email and ask any questions that I may have missed.

We are always happy to send you a list of references from the new parents of previous litters. We will only send you references upon your request as to ensure privacy for the new parents of our babies.
If you would like to be on the waiting list for a new puppy later in the year we do accept deposits now. To e-mail me for further information put the words "Yorkie Puppy Pack" or the word "Yorkie Deposit" in the Subject line of your email. Please include where you found me.

IT IS ALL ABOUT THE PUPPIES
Character Building
Our puppies have their own play space an area that is like a jungle gym. Puppies are given lots of toys that are changed every day so that they don't tire of them. We believe that puppies should be shown a variety of things to help them blossom into healthy adults. This stimulates their imagination and a safe environment a selection of toys builds positive behaviors. They receive the best quality foods and get lots of attention from everyone of our family. The puppies are raised in an atmosphere of love and caring to bring out their best nature.
Litter Training
I now litter train my puppies with lots of success. We begin their paper training as soon as their eyes open and progress to litter training before 5 weeks of age. They are well on the way to being litter trained when you get them. You will have the puppy of your dreams.
I use the wood pellet litter that can also be used in your cat boxes. Litter trained puppies makes life with a new puppy so much easier. Litter is so much neater to look at much more sanitary than paper.
Give the puppy time to adjust to your home and then you can begin work to train your puppy to go outside. Just take him or her outdoors to toilet the puppy will soon learn to ask to go out all by themselves.
Registered Name vs Call Name
A registered name is just that. The name the dog as is know in the breed registery. A breed registry, also known as a stud book or register, in animal husbandry and the hobby of animal fancy, is an official list of animals within a specific breed whose parents are known. Breeder like myself register a dog while it is young so that dog is known. Proving that it is indeed a purebreed.
There are breed registries and breed clubs for several species of animal, such as dogs, horses, cows and cats. The Association of Zoos and Aquariums (AZA) also maintains stud books for captive species on display ranging from aardvarks to zebras. There are also entities which refer to themselves as registries, but which are thinly-veiled marketing devices for vendors of puppies and adult dogs, as well as a means of collecting registration fees from novice dog owners unfamiliar with reputable registries and breed clubs.
The puppies call name is the personal name you give your companion. A name usually reflects a personality trait or characteristic. The call name can be humorous like our Daisy the 200lb Mastiff or Fang our guinea pig. It can also honor someone or be a fond memory. Such as Suzie Q is an old song that I remember so well, looking at her as a baby I remembered that old song. And you can already guess Ruby and Jade are my favorite gems.
A call name is usually a short easy to say name to call your buddy to you.
For example, the famous Thoroughbred race horse Man o' War was known by his stable name, "Big Red." The name can be anything that the animal's owner prefers. For example, the dog that won the 2008 Westminster show was named Ch K-Run's Park Me In First, with the call name of "Uno".
Kennel Club Registration
Our puppies are C.K.C registered. You can also transfer registration very easily with AKC as they are sister organizations.
The Canadian Kennel Club ( or C.K.C.) is the primary registry body for purebred dog pedigrees in Canada.
Beyond maintaining the pedigree registry, the C.K.C. also promotes events such as conformation shows and obedience trials for purebred dogs and confers championship and other titles in conformation, obedience and similar competitions. The Canadian Kennel Club is a national, member-based, non-profit organization, incorporated under the Animal Pedigree Act of Canada. Founded in 1888, it provides registry services for all the 174 dog breeds which it currently recognizes, and provides governance for all C.K.C. approved shows, trial and events. C.K.C. provides news and information to its membership through its association with Dogs in Canada monthly magazine. For a dog to be registered with the C.K.C., the dog's parents must be registered with the C.K.C. as the same breed, and the litter in which the dog is born must be registered with the C.K.C. Foreign-born dogs are registered as imports by C.K.C. provided that they are registered with a C.K.C. approved and recognized foreign registry and identified in accordance with C.K.C. regulations. Once these criteria are met, the dog is eligible to be registered as purebred by the C.K.C. The Animal Pedigree Act provides that only one official registry per breed may exist in Canada, and other breeds not recognised by C.K.C. are registered by other registries such as the Canine Federation of Canada and the Working Canine Association of Canada. C.K.C. members may only breed C.K.C. recognised breeds and are required to sign a membership pledge not to engage in the buying, selling or breeding of dogs not purebred (purebred being defined as eligible for C.K.C. registration).
The American Kennel Club ( or AKC ( is a registry of purebred dog pedigrees in the United States. Beyond maintaining its pedigree registry, this kennel club also promotes and sanctions events for purebred dogs, including the Westminster Kennel Club Dog Show, an annual event which predates the official forming of the AKC, the National Dog Show, and the AKC/Eukanuba National Championship. Unlike most other country's kennels clubs, the AKC is not part of the International Canine Organisation, Fédération Cynologique Internationale.
Health Guarantee
All our pupppies are micro-chipped and have their first shots. Our puppies are all Vet checked and approved each given a clean bill of health by the Vet before leaving our home. They must also pass my own criteria before traveling to their forever home. The puppy must be fully weaned, eating hard food and playing with their brothers and sisters. They must also be large enough and old enough to travel.
I offer you three days to take your puppy to your own Vet for another check with the ability to return your puppy if your Vet finds him or her unhealthy. We offer a full money back refund if your puppy is not found in perfect health. We also offer a one year money back guarantee if your puppy is found to have any genetic defects.
Shipping is available
Shipping is available. I will only use IATA Approved airlines. They have a book of rules for transporting your pet. These are not guidelines but rules with fines attached for ignoring them.
All live animals are secured in the cargo holds which are located underneath the passenger deck. The holds are temperature and pressure controlled in exactly the same way as the passenger cabins and comfortable.
While the holds do not have any lighting while in flight, it has been proven over the years that animals travel better in darkness and that they arrive in better shape than the passengers as animals do not suffer jet-lag! Dogs think of things backwards. To them a darkened space is where no one will see them not where they can't see. The flight kennel keeps you out not them in. It is all a matter of perspective.
I DO NOT Force Wean
We don't force weaning from their Moms, I have found that Yorkie puppies are unique breed and that have a need for their Moms. Being an intellegent breed they need to learn all they can from her as well as put on the necessary weight to go to their forever homes. Inever prevent a baby from spending time with their Mothers. Yorkie mothers will wean their puppies when they are ready not at my discretion. A long time ago I learned that nature left alone can be smarter that the people who fiddle with it.
Yorkie mothers don't punish or push their young away but wait until the puppy is ready to wean itself around 6 and 7 weeks. I have a belief that the Mom's know what they are doing without my interference and found that I have been rewarded with happy healthy babies and parents.
Working Parents
All working parents need to purchase is a playpen or a portable pet pen and equip it with food, water and a litter box. The other option is a baby gate with very small holes and cordon off the kitchen or bathroom while you are gone. Childrens Play pens or Pet X-pens work so much better.
Deposits on Litter Trained Puppies
We will take deposits on our next litter. The Sire are our own, Cody. If you want to see their pedigree just ask and I will mail it out. Our CKC registered Kennel is small and our home and to the right families we offer beautiful looking companions, as well as loving good natured Yorkshire Terrier puppies.
We are always happy to send you a list of references from the new parents of previous litters. We will only send you references upon your request as to ensure privacy for the new parents of our babies.
E-Mail roxanne@yorkie.classykennels.comEmail Roxanne.

Next:

Home:

Nursery:




E-Mail roxanne@yorkie.classykennels.com: