Grooming a Yorkshire Terrier

For the Experienced Dog Owner: grooming means more than putting a comb through your dog's coat.
Brushing out your long-haired Yorkie will take about 15 minutes a day and is not called grooming. Please look at Coat Care for comb out details. Brush and Comb out and grooming are not the same things.
Full grooming for some parents will be an adventure. Full grooming for others will mean taking your Yorkie to a Groomer every 4 to 6 weeks. It will also tell you if you want your Yorkie to be in a full to the floor coat or sheared down to the standard puppy cut. This is not meant to be mean we would all love to have the full show coated Yorkie but some of us have work and kids and and and. So is there time to add another and? For those that haven't the time it will mean the puppy cut.
Be honest with yourself because it is fairer to you and your puppy. Your Yorkie baby is happy either way.
Basic Grooming Aids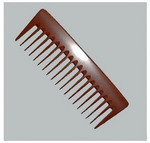 A Bone Comb also known as bakelite combs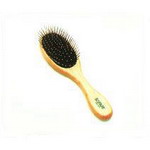 An air-cushioned wire-bristle brush without nibs
Natural bristle brush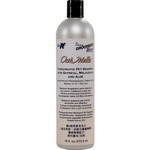 Moisturizing shampoo and rinse
My personal favourites have Aloe Vera and Oatmeal. I always like natural.
DO NOT USE HUMAN SHAMPOO OR RINCE AS THE PH IS DIFFERENT FOR DOGS AND WILL DRY OUT THE SKIN OF YOU PUPPY OR DOG.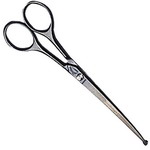 Scissors with round ends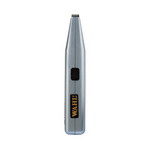 A small clippers or shearers
A mink oil - or jojoba based grooming spray
A hair dryer ( make sure that there is a cool setting)
Barrettes and small, coated rubber bands
A nail file and nail clippers
Ear lotion and calcium carbonate
Start Grooming your Puppy Early:
Get the puppy used to all the grooming procedures while it is young, in order to avoid having problems later. Since your Yorkie will resist strongly at first have a second person assist you by keeping a firm hold on the little dog. Get your puppy use to standing still on a little pedestal or on the floor on a non skid surface during the entire grooming time.
DO NOT USE A HIGH TABLE YOUR PUPPY WILL JUMP OFF IT.
Care of the Eyes:
Matter that collects in the corners of the Yorkies' eyes especially after a sleep whether grass seeds or a hair may have gotten stuck in your pet's eyes, If so it has to be removed with a damp cloth, to prevent irritation and inflammation. You can ask your vet for eye drops to help soothe it. ANY IRRITATION SHOULD BE SEEN BY THE VET.
Care of the Ears:
Cleaning:

If the external part of the ear is very dirty clean it with a cloth to which ear lotion has been applied. Leave the cleaning of the sensitive inner ear canals to the veterinarian.

Removing Hair inside the ear:

Ear wax and dirt cause the hairs inside the ear to stick together, and bacteria to form there. Therefore you need to pluck hairs from the external ear with tweezers about every three months. It is safest to have the bet show you how to remove the hair properly.

Shaving the Tips of the ears

About every four to six weeks shave the upper third of each ear with a small clipper. Trim the remaining hair along the edges of the ears with scissore that have the rounded tips. DO NOT CUT THE LEATHER OF THE EAR FLAP. If you are unsure of this have a professional groomer or Vet show you how.
Care of the Teeth:
While the Yorkie is still a puppy get it used to regular dental care. Neglect can lead to gingivitis (inflammation of the gums) and tooth loss at an early age.

For Prevention:

Proper nutrition is a prerequisite for healthy teeth. Let your puppy chew toys and treats that are said to be certified good for teeth cleaning. Your guess is as good as mine as to which ones are good. I like Nylabone and greenies.

You can also rub calcium carbonate on their teeth once a week. This can be purchased at your local pharmacy.

Check their teeth to make sure that their baby teeth have fallen out and they don't have an extra tooth that will cause crowding of the adult teeth. These extra teeth will have to be removed by the Vet.

Tatar:

This takes the form of a hard brownish deposit on the teeth. It can be caused by diet of overly soft foods, and has to be removed by the vet. These dogs like to chew and should be left to chew hard toys and bones.
Bathing a Yorkie:
Unlike us humans, dogs have no sweat glands. Dogs have no sweat glands; instead, they have sebaceous glands that cover the coat with a layer of oil. This "seal" protects the dog against the elements. The natural oils are washed out of their coat and off their skin every bath time. If you bath too frequently their body cannot replenish the oils fast enough. Their hair is left dry and their skin chapped. As a rule it is enough to bathe young dogs between four and eight months no more than once a month.

While young Yorkies may need a bath every two weeks. You will need to replenish the oils with bathing products like rinses and grooming oils.

Getting Ready:

Before the bath, use your fingers to loosen mats and tangles in the dogs hair and give its coat a thorough brushing. Apply a dematting spray to stubborn mats and give it about 10 minutes to take effect or sprinkle baby powder and work it thru the mat. Then use a comb to untangle the hair. If that still doesn't work on heavily knotted areas, cutting them out is the only alternative.

How to Bathe a Yorkie:

If the Yorkies legs, feet, or belly are dirty after a walk plain water will be sufficient or a damp sponge or cloth will clean the soiled areas.

Have your Yorkie stand on a non skid mat in the sink, bathtub or shower. Be extra careful if you use the sink. A dog will jump out and may injure its self.

Plug your pet's ears with a cotton ball to keep water out. Rinse its head and body with lukewarm water. To clean its belly, life the dog's front paws.

Carefully shampoo the hair on the Yorkies body, making sure that no foam gets into its eyes.

Gently massage the shampoo all over the body, including the belly and the rear end, and then rinse well.

To finish, apply a grooming rinse leaving it on for one or two minutes. Rinse well again.
Now on to how to the brush or comb out your Yorkie under Coat Care.

Next:

Home:

Nursery:




Email Roxanne: